Mission and Vision
Strategic Plan
With this Strategic Plan 21-25 we intend to be participants in a social change. Currently there is a gap in the quality of education, poor nutrition from the earliest stages of life, as well as in the development of rural communities. One of the reasons is the lack of allocated resources, such as inadequate programs.
ATEDESO intends to fill this gap, with the advice of specialist technicians, implemented new techniques and with the appropriate technological equipment we will drive development.
Our Mission:
It is to promote agriculture in peasant communities and to train students through new methods, advice and technological contributions. As well as improving the nutrition of children in the early stages of school education, providing food of high nutritional value and helping society in the event of an eventual natural disaster.
Our Vision:
ATEDESO contributes to educational, nutritional, to improving the production of communities, to the formation of society and to improving the quality of life, with the use of technology.
Values:
ATEDESO is guided under the following values:
We are willing to fully contribute to change. Reduce the deficiencies of the State in the educational field and in the development of their community.
We know that everything can be accomplished and we are sure to meet all our goals.
We promise to work together with the people, the community, the country and meet the goals that we have in common, and that the community will be its beneficiary.
We will be fully responsible of our social work, from its assessment until the end of each project.
We belief in gender equality.
We will respect the diversity of cultures and beliefs.
We will be persistent in the love for our environment.
We are fully committed to innovation.
Organization Chart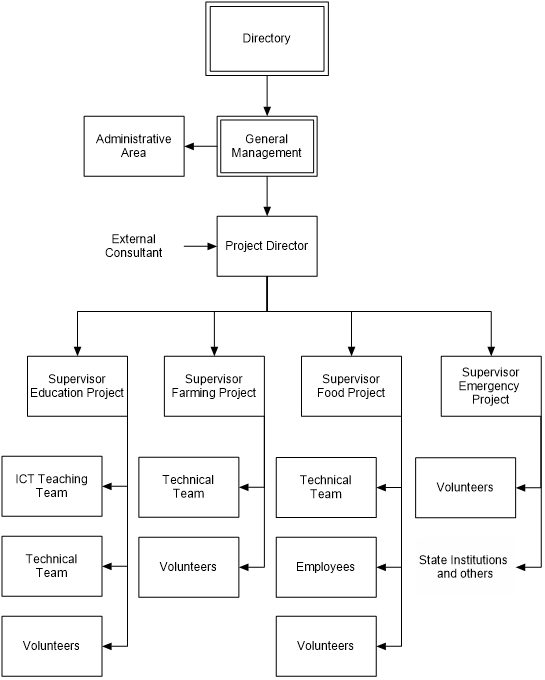 Registration
Oficina Registral Lima N°IX
Titulo n° 2015-01092039 Fecha 20/11/2015.
Partida n° 13527936 Asiento A0001
RUC 20600964179
Registration Exempt Entities- Quartermaster Resolutiona N° 0230050161620.
Qualification as percipient taxpayer donations entity- Quartermaster Resolutiona N°0230050161834.